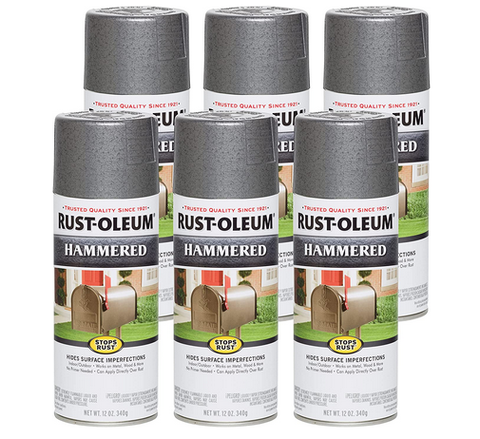 Rust-Oleum Hammered Spray Paint, Gray, 12 oz Pack of 6 #7214830
Description:
 Rust-Oleum® Universal® Hammered Spray Paint is primer as well as paint, giving your projects a hand-hammered look. This spray paint  provides superior coverage and durability on most surfaces and at any angle thanks to the trigger technology of the can.

Commercial and Residential uses

Almost any project can benefit

Ultimate flexibility for extreme applications
Maximum adhesion and fast dry time for demanding substrates
Unmatched coverage on the first coat.

Fade and scratch resistant
 Email Us for custom colors.

Best Sellers
Fresh Days Alcohol Wipes With 75% Alcohol 80 pcs   ...
# M-03290    12/Case 20 oz. Can (Net Wt. 16.5 oz)   ...
  - 9" x 13"  - Disposable - Soft stretchable headba...
5 Mil Nitrile Gloves
Shop now!