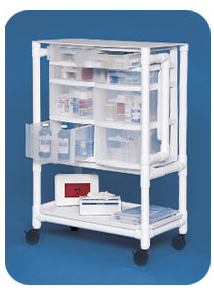 Pvc Nursing Supply Cart W/ 8 Storage Drawers, 3" Casters #PVCNS
Description:
Pvc hospital nursing supply cart w/casters. This model comes 8 storage drawers in two sizes. Cart size: 44"h x 30"w x 17.5"d. Nursing cart is fully fda compliant. Draw sizes 4 in size 7"h x 10.5"w x 13"d and 4 in size 3"h x 10.5"w x 13"d. Constructed from the toughest pvc on the market. Light weight to make handling and moving it around easier.
They are durable, never lose shine, will not yellow, fade or become brittle. Cart comes with 30" x 18" bottom shelf, 4-3" easy rolling casters ( 2 locking) and a top shelf writing surface. Approx. Ship wgt 70 lbs., nursing supply cart is sold and priced by the each.
Best Sellers
Fresh Days Alcohol Wipes With 75% Alcohol 80 pcs   ...
# M-03290    12/Case 20 oz. Can (Net Wt. 16.5 oz)   ...
  - 9" x 13"  - Disposable - Soft stretchable headba...
5 Mil Nitrile Gloves
Shop now!