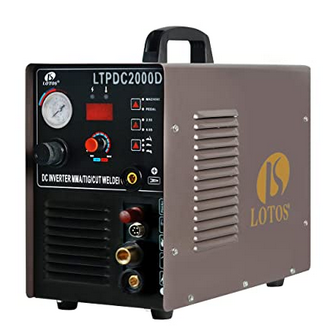 LOTOS LTPDC2000D Non-Touch Pilot Arc Plasma Cutter Tig Welder and Stick Welder 3 in 1 Combo Welding Machine,½ Inch Clean Cut,Brown #04-ZVGR-0O8D
Description:
NON-TOUCH PLASMA CUTTER: 10-50AMP Plasma Cutter Current Output; Max Ideal Cut Thickness: 1/2" ; Max Severance Thickness: 3/4"; Pilot Arc Torch Efficiently Cuts through Rough, Painted, and Rusty Surfaces and Produces Minimal Slag; Compact Plasma Cutter Has a Handle for Portability and Uses Non-Hazardous Compressed Air to Cut Stainless Steel, Alloy Steel, Mild steel, Copper, and Aluminum
  TIG WELDER: 15-200AMP DC TIG Electric Current Output; Quality TIG welding on Stainless or Steel and Precise Welding of Thinner-gauge Materials; HF arc start hand torch control and Precise Foot Pedal Welding Heat Control(Foot Pedal NOT Included).STICK/MMA WELDER: 15-200AMP DC Stick/MMA Electric Current Output; Easy ARC Start, Stable Welding Arc; Deep Weld Pool and Optimal Welding Shape;
Best Sellers
Fresh Days Alcohol Wipes With 75% Alcohol 80 pcs   ...
# M-03290    12/Case 20 oz. Can (Net Wt. 16.5 oz)   ...
  - 9" x 13"  - Disposable - Soft stretchable headba...
5 Mil Nitrile Gloves
Shop now!