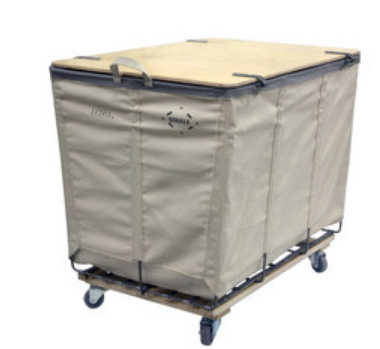 Lockable Wood Cover Laundry Basket- 10 Bushel #LWCVLB10 -23
Description:
    Heavy canvas or reinforced vinyl lined constructed laundry truck, with wooden base and 4- 3" casters.
    Lockable wooden cover. Lacquer finish wood cover with standard lock rod.
    Caster arrangements are all swivel, unless otherwise specified.
    Bushel size's 6 through 20 have 3" casters, bushel size's 24 have 4" casters.
    Trucks available in 10 different vinyl colors (red, blue, lt.Blue, green, orange, yellow, black, white, grey, burgundy)
    Must specify liner materials (canvas or reinforced vinyl) and vinyl color needed, otherwise standard color white will be shipped.
Best Sellers
Fresh Days Alcohol Wipes With 75% Alcohol 80 pcs   ...
# M-03290    12/Case 20 oz. Can (Net Wt. 16.5 oz)   ...
  - 9" x 13"  - Disposable - Soft stretchable headba...
5 Mil Nitrile Gloves
Shop now!