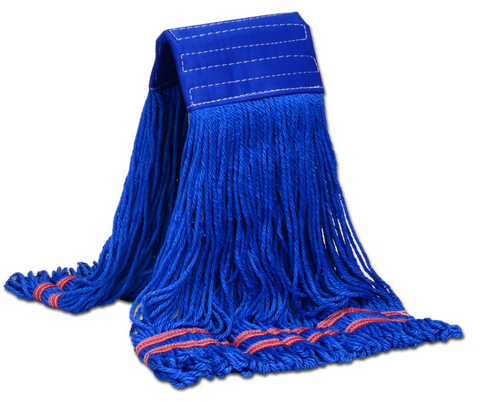 Large Microfiber String Mop
Description:
Construction: Microfiber Wholesale's Large Microfiber String Mop combines the unsurpassed absorbency of microfiber with the capacity of a looped end wet mop. In our tests this mop dried the floor nearly twice as fast as cotton mops. It's made from looped microfiber yarn which is split. The splitting of the microfiber is what gives the mop its absorbency and cleaning power. The mop features a nine inch polyester head band which increases the life of the mop by preventing the yarn from wearing out near the head band. It also has two tail bands which ensures even coverage and also prevents the yarn from tangling during the laundering process. These mops are machine washable but should only be washed with other microfiber products. It's available in blue and white.
Uses: Our Microfiber String Mop is great for cleaning up spills and leaving the floor dry behind it. This means it's a great mop for use in fast food restaurants, grocery and convenience stores, kitchens or anywhere else liquid is spilled. It's also a good mop for applying floor finish.
Specifications:
Size: Large - 17.5 inches

Shrinkage: Comparable to Cotton Mops

Colors: Blue, White

Tailbands: Two (Blue Only) One (White Only)

Headband: Polyester (Blue Only) Mesh (White Only)

Material: 80% Polyester / 20% Polyamide
Best Sellers
Fresh Days Alcohol Wipes With 75% Alcohol 80 pcs   ...
# M-03290    12/Case 20 oz. Can (Net Wt. 16.5 oz)   ...
  - 9" x 13"  - Disposable - Soft stretchable headba...
5 Mil Nitrile Gloves
Shop now!