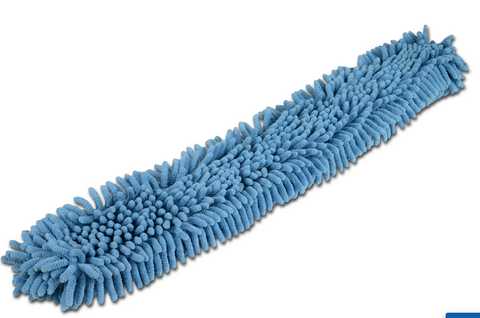 Chenille Microfiber High Duster Cover - 2 Pack CMHDC-2
Description:
Construction: Microfiber Wholesale's Chenille Microfiber High Duster Cover has unmatched capacity to pick up and hold dust. This duster cover is made from dense chenille microfiber that's sewn into a sleeve. This oversized cover works with our Flexible High Duster Handle. The plush design of the duster leaves plenty of room for dust and dirt to be stored so you can continue dusting without worrying about just pushing the dust around. It secures around its handle with a strip of Velcro® style hook and loop. The positively charged microfibers act as a magnet to attract and hold negatively charged dust particles. This is a washable microfiber duster refill. When cared for properly can last hundreds of washings.
Uses: Our Chenille Microfiber High Duster Cover is a very versatile cleaning tool. It is a removable and washable microfiber ceiling and fan duster, and also works great on floors and under furniture. When combined with the Flexible High Duster Handle you can dust just about anywhere. The slim design of the duster allows you to clean in hard to reach areas such as next to refrigerators, behind dressers, and under couches. The flexible design of the handle allows you to use the duster to dust ceiling fans, furniture, picture frames and anything else around the home or office that collects dust. When attacehd to our extendable handles they make a great microfiber floor duster as well.
Specifications:
Size: 3.5"x24"

Color: Blue

Microfiber Blend: 80% Polyester / 20% Polyamide

Packaging: Individual, Loose Packed
Best Sellers
Fresh Days Alcohol Wipes With 75% Alcohol 80 pcs   ...
# M-03290    12/Case 20 oz. Can (Net Wt. 16.5 oz)   ...
  - 9" x 13"  - Disposable - Soft stretchable headba...
5 Mil Nitrile Gloves
Shop now!