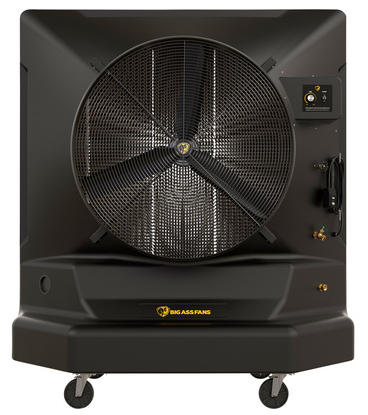 Big Ass Fans Cold Front 400 Portable Evaporative Cooler — 6400–9700 CFM, 36in., Model# F-EV1-3601
Description:
The Big Ass Fans Cold Front 400 Portable Evaporative Cooler, known as a swamp cooler, provides a rapid, effective response to crippling heat. Combining powerful, quiet direct-drive fan technology with a water supply and saturated cooling medium, the Cold Front delivers instant airflow that lowers the air temperature of your space by up to 33°F/18°C, creating comfortable conditions that keep personnel safe and productive. Pair your Cold Front coolers with Big Ass overhead fans to deliver the benefits of powerful spot-cooling and elevated air speed to every corner of your facility. When used in tandem with overhead fans, Cold Front coolers provide maximum cooling and coverage areas, silently delivering comfort and energy savings to your facility without costly A/C use. Cold Front coolers feature virtually silent direct-drive motors and variable-speed controls that allow you to deliver precise cooling throughout your facility for a fraction of the cost of traditional A/C.
Coverage for areas up to 3600 sq. ft.
Portable design with locking swivel casters
Virtually silent direct-drive motor
36in. fan
8in. cooling media
Best Sellers
Fresh Days Alcohol Wipes With 75% Alcohol 80 pcs   ...
# M-03290    12/Case 20 oz. Can (Net Wt. 16.5 oz)   ...
  - 9" x 13"  - Disposable - Soft stretchable headba...
5 Mil Nitrile Gloves
Shop now!