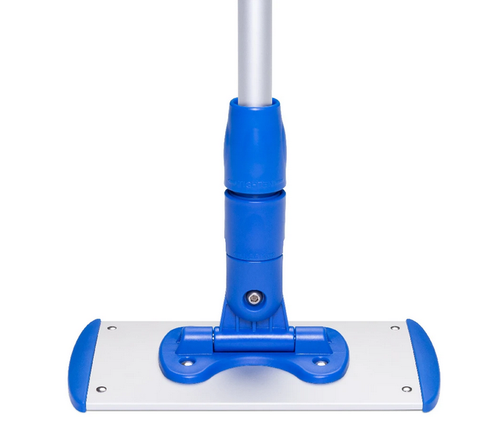 9" Heavy Duty Frame & Handle Combo #HDT9
Description:
Construction: Microfiber Wholesale's 9" Heavy Duty Microfiber Mop Frame is an aluminum mop frame with a unique shape that allows it to easily be pushed into corners. The mop frame features two rows of molded plastic hook and loop type material that firmly grips our microfiber mop pads. The frame has a smooth top, which makes cleaning it very easy. The frame also features high impact hardware that attaches to our Heavy Duty Handles or our Stainless Steel Handles. The hardware allows the frame to swivel 360 degrees. The swivel has a locking mechanism which, when engaged, prevents side to side motion. This makes cleaning walls and ceilings easy. Use these with our small size 10 inch mop pads.
Specifications:
Size: 4"x9" (10cm x 23cm)

Material: Aluminum with High Impact Plastic

Attach: hook and loop

Use with: Heavy Duty Telescoping Mop Handle
Best Sellers
Fresh Days Alcohol Wipes With 75% Alcohol 80 pcs   ...
# M-03290    12/Case 20 oz. Can (Net Wt. 16.5 oz)   ...
  - 9" x 13"  - Disposable - Soft stretchable headba...
5 Mil Nitrile Gloves
Shop now!