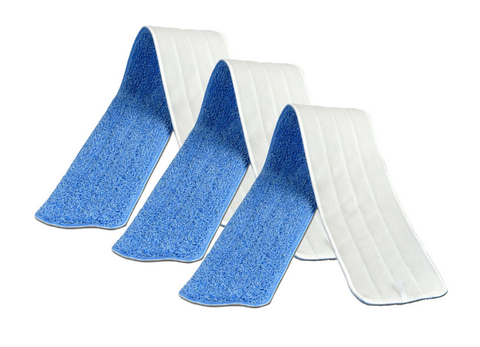 48" Microfiber Wet Mop Pad - 3 Pack
Description:
Construction:     Microfiber Wholesale's 48" Microfiber Wet Mop Pad is a simple and effective lint free mop pad constructed from looped polyester / polyamide blend microfiber yarn and looped polyester. The looped polyester is added to help the mop glide across the floor; too much microfiber would make it next to impossible to push across the floor. The microfiber / polyester face yarn is sewn to a hook and loop style backing with overlock stitching on the edges. Between the microfiber face yarn and the hook and loop style backing is a 3mm foam core. The purpose of the foam core is to help the microfiber mop pad keep its shape throughout the life of the pad and to store liquids (water, disinfectant, cleaner) which will help emulsify dust, dirt and grease for effective cleaning.
Uses: 48" Microfiber Wet Mop Pads are great for big heavy duty cleaning jobs. It's the perfect basketball floor mop! These mop pads do an effective job as a quick and easy mop to clean large open areas such as gymnasiums, basketball courts, warehouses, industrial use, and much more. They're best used in applications where maneuverability isn't a primary concern. Be aware of the fact that microfiber wet mops this large take much more effort to push across the floor compared to smaller microfiber wet mops or microfiber dust mops of any size. Use these flat mop heads refills with any of our 48 inch microfiber mop frames.
Best Sellers
Fresh Days Alcohol Wipes With 75% Alcohol 80 pcs   ...
# M-03290    12/Case 20 oz. Can (Net Wt. 16.5 oz)   ...
  - 9" x 13"  - Disposable - Soft stretchable headba...
5 Mil Nitrile Gloves
Shop now!