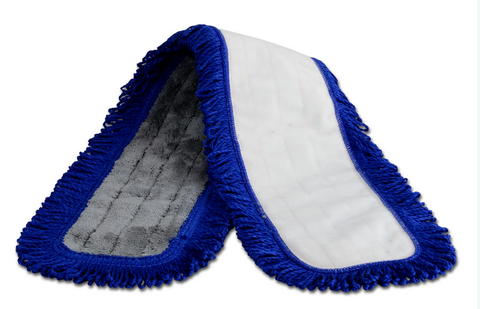 36" Mojave Microfiber Dust Mop
Description:
Construction: Microfiber Wholesale's 36" Microfiber Dust Mop Pad with Microfiber Fringe Yarn is constructed from looped microfiber yarn sewn to a microfiber dust mop pad which features dense cut split microfiber. It combines the best of both types of dust mops; you get the deep clean of regular microfiber dust mop pads and the ability to handle larger soil like our looped yarn microfiber dust mops. The backing is a hook and loop which attaches to any of our Microfiber Mop Frames and Microfiber Mop Tools. This dust mop pad has no foam core.
Uses: This microfiber dust mop is best used to mop hard surface floors with light to moderate soil. The 36" version is perfect for dust mopping aisles like those in grocery stores, warehouses and classrooms. The cut pile microfiber pad cleans deeper than looped dust mops. Other uses for our microfiber dust mop pad with microfiber fringe yard include dust mopping basketball courts, gymnasiums, auditoriums, and much more.
Specifications:
Sizes: 5" x 38" (13.5cm x 97cm)

Color: Light Blue/Dark Blue

Blend: 80% Polyester/20% Polyamide Microfiber – 100% Microfiber

Denier: .1-.2

Backing: Hook and Loop
Best Sellers
Fresh Days Alcohol Wipes With 75% Alcohol 80 pcs   ...
# M-03290    12/Case 20 oz. Can (Net Wt. 16.5 oz)   ...
  - 9" x 13"  - Disposable - Soft stretchable headba...
5 Mil Nitrile Gloves
Shop now!