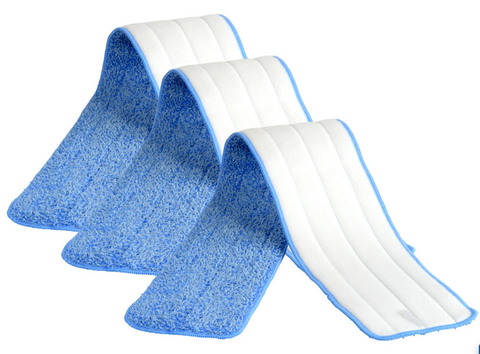 36" Microfiber Wet Mop Pad - 3 Pack
Description:
Construction: Microfiber Wholesale's 36" Microfiber Wet Mop Pad is a simple and effective lint free mop pad constructed from looped polyester / polyamide blend microfiber yarn and looped polyester. The looped polyester is added to help the mop glide across the floor; too much microfiber would make it next to impossible to push across the floor. The microfiber / polyester face yarn is sewn to a hook and loop style backing with overlock stitching on the edges. Between the microfiber face yarn and the hook and loop style backing is a 3mm foam core. The purpose of the foam core is to help the microfiber mop pad keep its shape throughout the life of the pad and to store liquids (water, disinfectant, cleaner) which will help emulsify dust, dirt and grease for effective cleaning. This is why they are so effective for heavy duty cleaning.
Uses:36" Microfiber Wet Mop Pads are great for daily maintenance or deep cleaning any hard surface floors.They work great for cleaning contract companies and housekeepers who need to get through their cleaning jobs quickly and hassle free. For healthcare applications, the microfiber wet mop pads are an essential tool for preventing cross contamination in patient rooms. The microfiber wet mop pads can also be used to wash down ceilings and walls when a more thorough cleaning is necessary. The density of the yarn and microscopic size of individual fibers allow the pad to reach into the depressions and tiny crevices on the floor surface and remove over 99% of the bacteria reached. These truly are an all purpose mop pad and can be used wet or dry for scrubbing, polishing, and damp dusting.

Specifications:
Sizes: 5" x 38" (13.5cm x 97cm)

Color: Light Blue/Medium Blue

Blend: Light Blue yarn is 80% Polyester/20% Polyamide Medium Blue yarn is 100% Polyester

Denier: .1-.2

Weight: 470 Grams per Square Meter (Face Yarn)

Backing: Hook and Loop style

Fill: Foam – 3mm thickness
Best Sellers
Fresh Days Alcohol Wipes With 75% Alcohol 80 pcs   ...
# M-03290    12/Case 20 oz. Can (Net Wt. 16.5 oz)   ...
  - 9" x 13"  - Disposable - Soft stretchable headba...
5 Mil Nitrile Gloves
Shop now!