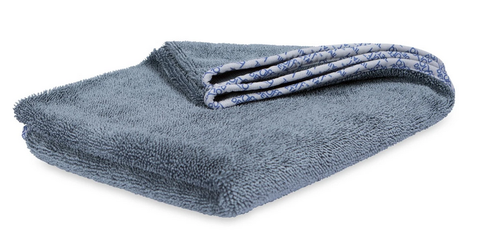 24" x 36" Buff™ Detail Microfiber Drying Towel #MLDT2436
Description:
Construction: Our 24" x 36" Buff™ Detail Microfiber Drying Towel is our large premium drying towel. They feature one side of our unique hydrophilic loop design, which quickly sucks up liquid and stores it. It's large enough to handle any drying task, while being economically priced. It's made from 500 GSM split microfiber that's an 80% Polyester / 20% Polyamide blend. The open spaces in the fibers created by the splitting process are what give the towels its superior absorption. Each towel has rounded corners to prevent curling. They're finished with satin piped edges to eliminate fraying and prevent the edges from scratching delicate painted surfaces. When cared for properly our 24" x 36" Buff™ Detail automotive drying towels can last hundreds of washings, saving you money in the long run.
Uses: Our 24" x 36" automotive terry cloth drying towels take the frustration out of drying! The problem is most towels are not able to take in water quickly and efficiently store it, which is why streaks and water spots form. Our microfiber towels for automotive drying are different. With our hydrophilic loop design, it quickly takes in surrounding liquids, moves it away from the towel's surface, & stores it in the interior, enabling you to dry larger amounts without saturating the towel.
Specifications:
Size: 24"x36" (60m x 90cm)

Colors: Gray

Blend: 80% Polyester / 20% Polyamide

Denier: .1-.2

Weight: 500 Grams per Square Meter

Edges: Satin Piped Borders

Origin: Korea
Best Sellers
Fresh Days Alcohol Wipes With 75% Alcohol 80 pcs   ...
# M-03290    12/Case 20 oz. Can (Net Wt. 16.5 oz)   ...
  - 9" x 13"  - Disposable - Soft stretchable headba...
5 Mil Nitrile Gloves
Shop now!