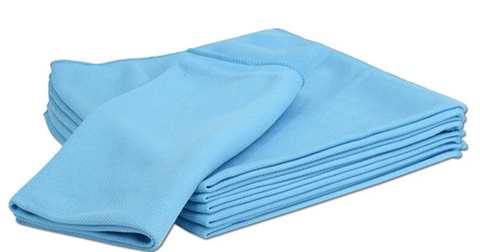 16"x16" Microfiber Glass Cleaning Cloth – 6 Pack
Description:
Construction: Microfiber Wholesale's Glass Cleaning Cloth is an economical flat woven towel designed for leaving a streak free finish on glass. The weave of the split polyester / polyamide blend microfiber yarn is designed for superior absorption while leaving no lint behind. The fact that the fibers are split creates open spaces in the fiber which give the towel its absorbability. The towel itself is lightweight and stretchy. It breaks most of our rules of quality microfiber, but the fact is this towel works great for the purpose it was designed for; cleaning glass. These microfiber towels feature overlock stitching which prevents fraying and allows the microfiber glass towels to be washed hundreds of times while still performing like they did when they were new, if cared for properly. These are the successor to our old lightweight microfiber glass towels, which featured a 200 GSM. These feature a higher 275 GSM, making them thicker and more absorbent.
A common question we get is are these lint-free cloths? Any flat woven type microfiber cloth like these are considered lint-free. That's because they are woven much tighter than the plusher terry type towels. This makes them ideal for removing streaks and smears. This tight flat weave minimizes fiber breakage, making it highly unlikely you'll see any leftover lint on your surface.
Uses: This is the perfect lint free microfiber cloth for glass cleaning and works great for cleaning any kind of non-porous surface such as, crystal, stainless steel, and porcelain. Use these for residential, commercial, or general everyday household cleaning. These microfiber towels are the perfect large size for use in kitchens for drying stemware and dishes to leave a spot free shine, or for outdoor use as a window cleaning cloth. They also work great on windshields when auto detailing. Another application for the glass towel is video displays, including televisions and computer monitors. You can even use them as a microfiber eyeglass cleaning cloth or for camera lenses, to remove smudges, though we may recommend something a little smaller, such as our Buff™ Quick Cloths.
Specifications:
Size: Approximately 16"x16" (40cm x 40cm)

Color: Light Blue

Blend: 80% Polyester / 20% Polyamide – 100% Microfiber

Denier: .1-.2

Weight: 275 Grams per Square Meter

Edges: Overlock Stitching
Best Sellers
Fresh Days Alcohol Wipes With 75% Alcohol 80 pcs   ...
# M-03290    12/Case 20 oz. Can (Net Wt. 16.5 oz)   ...
  - 9" x 13"  - Disposable - Soft stretchable headba...
5 Mil Nitrile Gloves
Shop now!